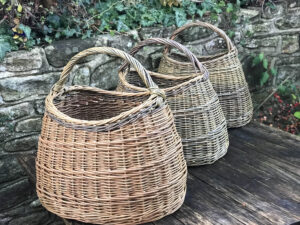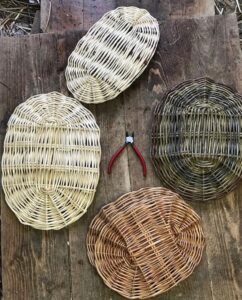 Traditional English Underfoot Ovals
Tuesday 26th & Wednesday 27th April 2022 in Cocking, West Sussex
Max 6 participants  
£155 per person including materials. There are two places available on the workshop.
Possibly my favourite bases to look at and make. 
The oval base brings with it, so much potential…our traditional, heritage base is beautiful and strong.
To come on this workshop you must have experience of willow basketmaking, and preferably experience of tying the traditional English undertook round base. (I have a video on my Instagram account for anyone needing to practice this). This will not only help with hand strength and body position when weaving an underfoot base, but will also help with understanding the tying-in process. 
We will look at some of the variety of different slaths, how to create variations in the number of stakes you want in your basket, and there will be a variety of vintage English oval baskets to look at.
It takes practice to get competent with these bases but they become a joy to produce.
Participants will need some hand strength and physical agility.